The first developer preview (DP) of Android 12 which is the next major update for Android devices, is finally here. Although many are still waiting for their Android 11 update but that's past the point.
Android is the most popular smartphone operating system in the entire world. Naturally, many are excited about the latest features of Android 12.
In this article, we will talk about Android 12 best features, Android 12 release date, Android 12 supported devices, what Android 12 will be called, and a lot more.
Android 12 code name
For those of you who are looking for the Android 12 name — we hate to break it to you, but Android 12 will be called Android 12. That's because Google stopped assigning dessert names to Android versions starting in 2019. For the past two years, it has been Android 10, Android 11, and now Android 12.
However, last year we learned that Google is still internally assigning desert names to the latest Android versions. For instance, Android 11 (R) is internally called "Red Velvet Cake." Based on Android 12 leaks, the next Android version i.e. Android S will be internally known as "Snow Cone."
Android 12 release date
Based on the Android 12 roadmap, Google is planning to release three Android 12 Developer Previews in February, March and April. Presently, the Android 12 Developer Preview 1 is out for several Pixel devices.
Then in the month of May, we can expect the first beta of Android 12. Google plans to release three more Android 12 betas in June, July and two in August.
Finally, Google will release the Android 12 stable build in the month of September. Naturally, Pixel devices will be the first to receive it. But from there, other Android devices will gradually start getting the Android 12 update in Q4 of 2021, with most of them getting in 2022.
10 Biggest Android 12 Features
Here are the best Android 12 features based on the first developer Preview of Android 12. We will update this article when Android 12 DP2 comes out.
1. Revamped Android settings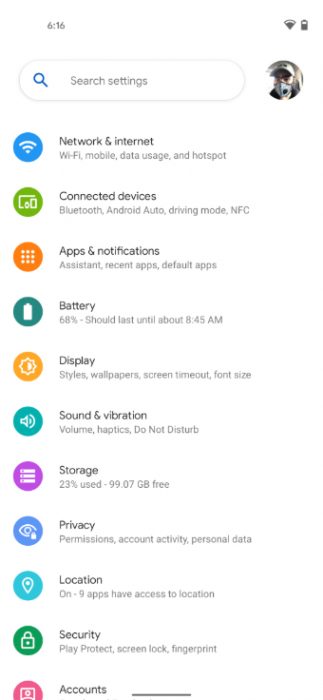 One of the biggest new features of Android 12 is the UI changes in the Android settings. Right on the homepage, the search bar has been redesigned; now featuring rounded corners and the profile picture has shifted outside the search box.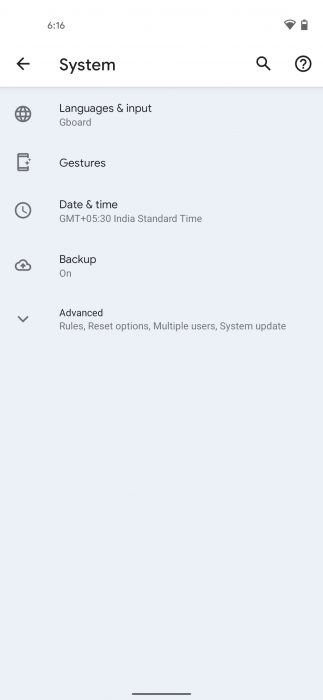 Apart from that, some settings can be seen with a blue hue in the background hinting of the arrival of a new in-house theming system that has been in rumors for quite a while now.
2. Changes in the Notification shade
Unlike Android 11, which added a big new feature called "Conversations" to the Notification panel, Android 12 appears to be focusing on design changes.
The notification shade is now more transparent, and there appears to be more space between the notification sections. Another big change we are seeing is the addition of a new clock icon in the notifications which opens up the snooze menu.
When you long-press on a notification, there is also a new "Automatic" option (currently in the works) that will enable Android to decide for itself whether a notification should give a ring or vibrate.
3. New Media Player UI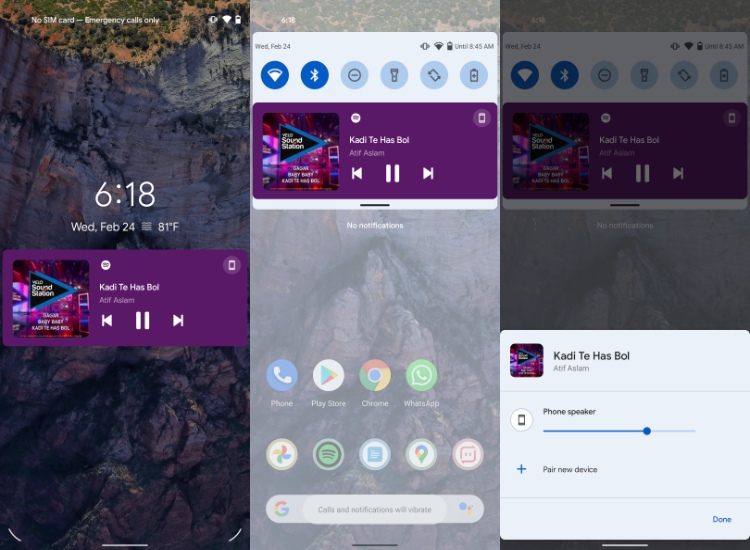 Speaking of the big Android 12 features, it appears Google has given a lot of attention to the Media Player.
It is much bigger with larger playback controls and features a bigger album art. Also, there is now a small icon to denote which audio device is playing the music. Tapping on it opens a new pop-up where you can easily pair a new Bluetooth device.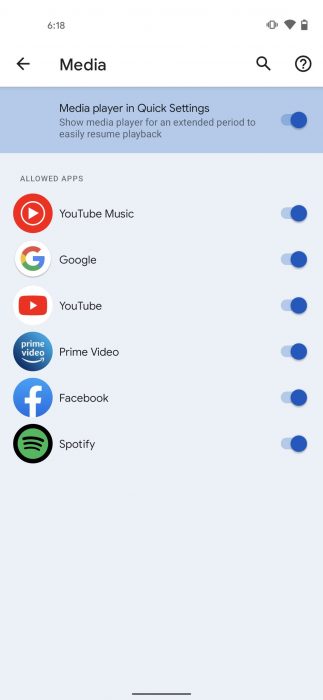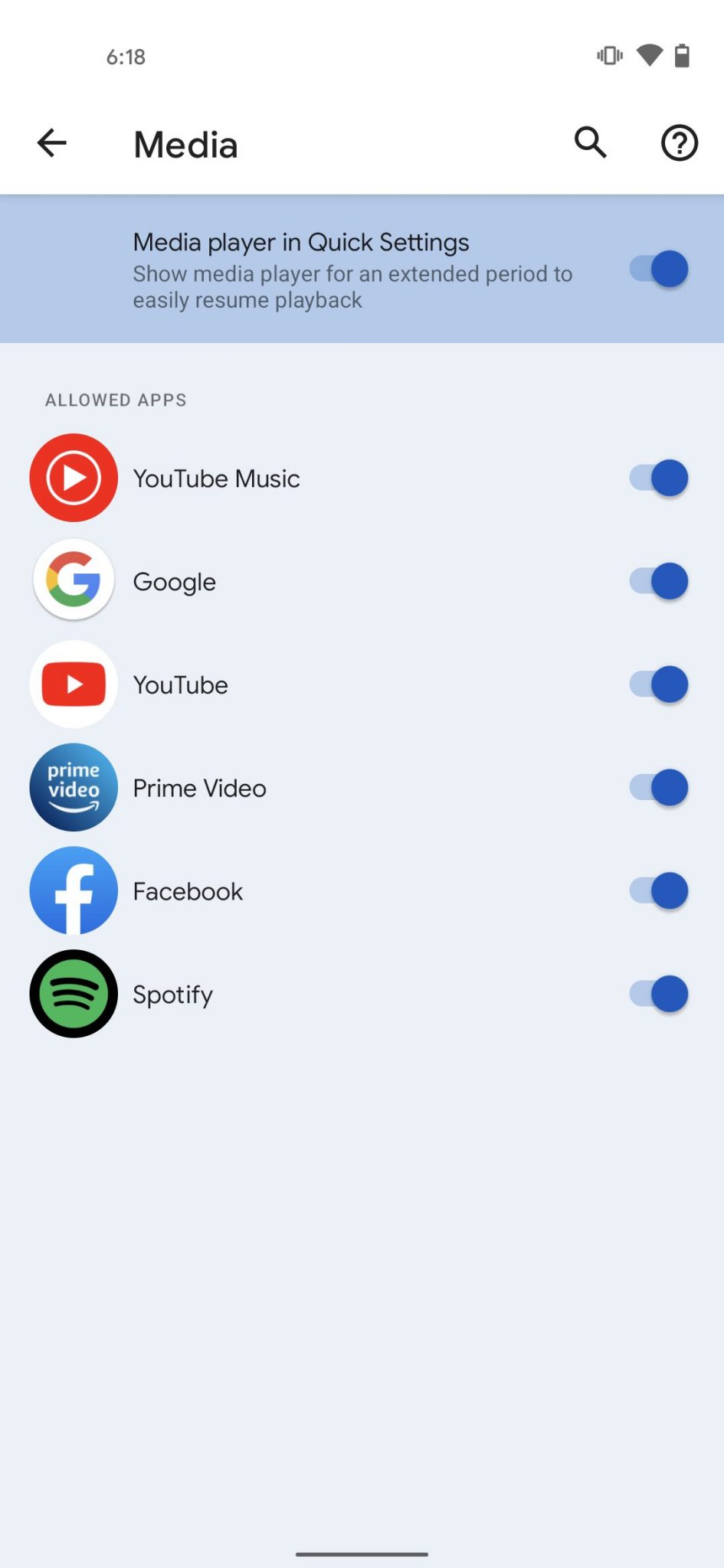 Apart from that, there is a new settings page where you can choose which media player should show up in Quick Settings for an extended period.
Speaking of Quick settings, Android 12 also features a new "Reduce Bright Colors" toggle that reduces screen brightness.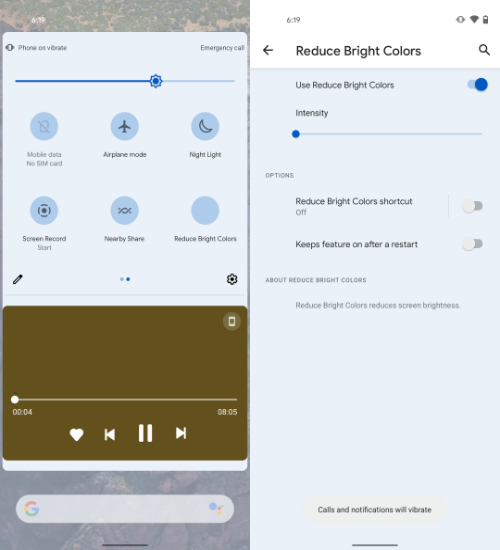 4. New Privacy features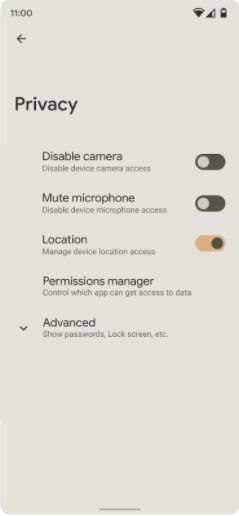 Google has added toggles to disable cameras and mute microphones entirely in the Android 12 privacy settings.
Similar to how you can disable location access, you will now be able to restrict all apps at once from accessing the camera and the microphone. Presently, this feature is not available to everyone.
5. One-handed mode
The new in-house one-handed mode is one of the best features of Android 12. The Android 12 feature scales down the screen, therefore allowing users to easily use the device with a single hand. As seen in the screenshots, toggling the feature also magnifies some settings as well.
But unlike the one-handed mode in other Android-based UIs where the screen shrinks vertically and horizontally, in Android 12, the screen only scales down vertically.
The One-handed mode is available as the "Silky Home" feature flag in the Android 12 DP1.
6. Scrolling Screenshots
After years of delays, Google has finally added the Scrolling Screenshot feature in Android 12. A scrolling screenshot is where the device captures a normal screenshot, scrolls down and captures another one, stitches the two, and produces a long screenshot.
As of now, the feature is buggy and is disabled by default in the Android 12 Developer Preview 1. However, we are hoping it will be one of the biggest Android 12 features.
7. Double Tap (Pixel exclusive)
Double Tap is a new Android 12 feature that works similar to the Back Tap in iOS 14 — you can double-tap on the back of the device to perform quick actions such as waking up the Google Assistant, opening the Notification center, opening a particular app or a setting, etc.
The double-tap gesture feature first appeared in earlier builds of Android 11, however was left out of the final release. Even now, while the Double Tap has arrived with Android 12 DP 1, the toggle appears to be non-functional.
8. Picture-in-picture
As rumored, Android 12 features enhancements in the picture-in-picture mode, such as pinching to re-size and double-tapping the floating window to make it full size.
Much like PiP in iOS 14, Android 12 has also added functionality to hide the Picture-in-Picture window to the side of the screen. In the first developer preview of Android 12, the feature works after enabling a flag.
More Android 12 features based on previous Android 12 leaks
9. Conversation Widget (Speculated)
Google added a Conversation section to the notification panel in Android 11, which enabled users never to miss a message or an update from their friends or family.
Adding on to that, the conversation widget is another big Android 12 feature. The new widget will enable users to view recent messages, missed calls, and status information of a person.
10. App Pairs
With Android 12, Google may introduce a new split-screen feature called App Pairs. When doing a split-screen, the two apps will now be shown as a pair in the Recents menu.
"Once paired, you should be able to easily swap to using a different single app and then swap back to the pair you created," writes 9to5Google.
11. Face-based Auto Rotate (Pixel exclusive) (speculated)
9to5Google reports that Pixel devices may get a new face-based auto-rotation feature in Android 12. With this, the device will use the front-facing camera to see the head orientation and will rotate the screen accordingly.
Presently, Android devices use on-device sensors and rotate the screen to match the device's orientation. However, it is far from perfect, and often users are forced to lock rotation. Hopefully, Android 12's face-based option will solve this issue.
12. Game mode
Google is expected to introduce a game mode in Android 12. It is being called the "GameManager" service which is described as a "service to manage game related features."
There is not much information on the Android 12 feature for now, so we will leave it to your imagination.
When will my device get Android 12?
Every time there is a new Android version in town, this question is always on everyone's mind. And like always, the answer lies with your smartphone manufacturer. OEMs like OnePlus are known to issue new Android updates quicker, while manufacturers like Xiaomi and Samsung are known to take a lot of time.
Of course, if your smartphone vendor is none other than Google, i.e., if you own a Google Pixel device — there is no doubt you will be the first person to receive the Android 12.
As of now, the Android 12 Developer Preview 1 is out for the below devices —
Pixel 5
Pixel 4a 5G
Pixel 4a
Pixel 4
Pixel 4 XL
Pixel 3a
Pixel 3a XL
Pixel 3
Pixel 3 XL
How to install Android 12 Developer Preview?
As of February 18th, Android 12 first developer preview is officially available for Google Pixel 3, Pixel 3 XL, Pixel 3a, Pixel 3a XL, Pixel 4, Pixel 4 XL, Pixel 4a, Pixel 4a 5G, or Pixel 5.
If you own one of Android 12 DP1 supported devices, you can install Android 12 by following this guide.
As the name suggests, developer previews are intended for developers. While they are available to general users, the builds are barely stable and come with several issues. That being said, the excitement and pleasure of getting the latest Android version first are worth the risks.
So this was everything about the latest Android update — Android 12. Do you like these new Android 12 features? Let us know in the comments down below.