Flipkart and Amazon, two of India's biggest e-commerce giants, will be hosting their yearly grand festival sale this weekend.
Both companies, in their respective festive season sales, plan to offer smartphones, laptops, and other electronics at ridiculously discounted prices. In this article, we will talk about the biggest mobile offers at Flipkart Big Billion Days Sale 2020. Don't fret! We have a separate list of blockbuster smartphone deals that Amazon will be offering during its Great Indian Festival Sale.
When is Flipkart Big Billion Days 2020?
The Flipkart Big Billion Day Sale will officially commence on 16th October and will continue till 21st October. Flipkart Plus members can start grabbing Flipkart mobile offers twelve hours before the official commencement, i.e., on the 15th of October.
Like the previous year, Flipkart plans to divide each day of the festive sale into three-time slots starting at 12 AM, 8 AM, and 4 PM. All Flipkart mobile deals during the Big Billion Day Sale will be available in their respective time slots.
Now that you know when Big Billon Days will start, let's discuss all the biggest smartphone deals upcoming on Flipkart.
12 Biggest Smartphone Deals On Flipkart Big Billion Days
Premium Smartphone Segment
1. Samsung Galaxy S20+
The biggest steal of this year's Big Billion Days Sale in smartphones is undoubtedly the Samsung Galaxy S20 Plus. Launched in February alongside Galaxy S20 and Galaxy S20 Ultra, the flagship from Samsung goes toe-to-toe with the OnePlus 8 Pro and even the latest Google Pixel 5.
In the Big Billion Days Sale 2020, the Galaxy S20+ will be available at Rs 49,999, a whopping 35% price drop from its usual price of Rs 77,999. That's even less than the OnePlus 8 Pro's Rs 54,999 price tag. The Galaxy S20 Plus price is now also as low as the price of the Samsung Galaxy S20 FE edition, a recent addition to the S20 series.
The Galaxy S20+ offer price can go further down to Rs 35,198 if a user plans to opt for the Flipkart Smart Upgrade offer where a user can pay 70% of the price at the time of billing and the remaining 30% after 12 months.
2. Samsung Galaxy Note 10+
Another crazy Flipkart mobile offer is yet again from Samsung. The Galaxy Note 10 Plus, launched back in August of last year, will be available at Rs 54,999 during the Big Billion Days, again a 35% drop from its original price of Rs 84,200.
The Samsung Galaxy Note 10+ is the predecessor of the Galaxy Note 20, the most recent flagship of Samsung. Of course, the device has slightly weaker specs compared to the Galaxy S20+; however, it comes with all the exclusive features one would expect in a Samsung Note variant. The device can be bought for Rs 38,998, thanks to Flipkart's Smart upgrade.
3. Motorola Edge+
The Motorola Edge+ is the company's only flagship of 2020, so naturally, it comes with all the high-end specs. The device was launched in May with a price tag of Rs 74,999. However, Flipkart will be selling the device for Rs 64,999 during its Big Billion Day Sale 2020.
The Motorola Edge Plus specs make it a clear competitor to the OnePlus 8 Pro and Samsung Galaxy S20+. But even the latest slashed prices might be problematic given the OnePlus 8 Pro and Galaxy S20+ can be bought for less.
4. LG G8X
This is probably the second biggest smartphone deal at the Big Billion Day Sale. For people who have always wanted a foldable device, but couldn't, due to the huge price tag — LG G8X is a steal.
Thanks to Flipkart, LG G8X has become the cheapest foldable smartphone that one can buy. The last year's foldable device is selling at Rs 19,990 on Flipkart, a whopping 63% decrease in its standard price of Rs 54,900.
The device was launched in December last year; it comes with amazing specs and puts up a great fight against the Redmi K20 Pro and other high-end smartphones.
5. Motorola Razr
Motorola Razr is another foldable from 2019 that is getting a massive price cut during Flipkart's Big Billion Sale. The device was launched for Rs 1,24,999, but Flipkart will be selling the device for Rs 84,999.
It comes with a Snapdragon 710 SoC, so it cannot be considered a flagship. However, its foldable, beautiful 6.2-inch flexible OLED HD+ and premium design are worth the extra buck.
Motorola will also be selling the Moto Razr 5G at Rs 1,24,999 for the 8GB RAM variant. HDFC cardholders can get a discount of Rs 10,000, bringing the price down to Rs 1,14,999.
6. Realme X50 Pro
Realme is putting many of its devices on discount at this year's Flipkart Big Billion Days Sale. Realme X50 Pro and X50 Pro 5G are top in line, which are getting Rs 5000 off from their launch price.
Launched in February, the X50 Pro series is the latest in the Realme premium segment and naturally comes with all high-end specs.
Mid-range Smartphone Segment
7. Google Pixel 4a
During the Flipkart's Big Billion Days, the Pixel 4a priced at Rs 29,999 will have its first sale. Google's Pixel 4a is the latest budget smartphone in the Pixel lineup. Unlike other Flipkart's mobile deals, the device is not getting huge discounts.
But it is worth mentioning here since a lot of Pixel fans in India had set their eyes on the device since its global launch in August.
8. Redmi K20 Pro
Last year's flagship from Xiaomi, Redmi K20 Pro is available at Rs 22,999 on Flipkart which is a Rs 6000 prince drop from its original price
This isn't the first time Redmi K20 Pro has come with a discounted price tag. You would still be able to grab the same deal even if Big Billion Days are gone. That being said, it's still a good choice at this price range if you are planning to buy a smartphone this festive season.
9. Realme X3
The Realme X3 series is the most recent mid-ranger lineup from the Chinese smartphone manufacturer. Launched in July, the Realme X3 and Realme X3 SuperZoom pack quite a punch with Snapdragon 855+ SoC.
Realme is offering a Rs 3000 discount on both devices. Realme X3's latest starting price is now Rs 21,999, while the Realme X3 Super Zoom 8GB variant can be bought for Rs 24,2999.
Apart from the boost in performance, the series doesn't offer much, and their 6.6-inch LCD is a letdown. A Samsung Galaxy M51 or even the last year's Redmi K20 Pro would be a better choice than Realme X3.
Budget Smartphone Segment
10. Poco X3, Poco X2, Poco M2 Pro, Poco M2 and Poco C3
The entire budget lineup from Poco will be getting its first discount at the Flipkart Big Billion Days Sale of 2020.
The Poco M2 will see a Rs 500 price cut to its already best-offered price. The Poco M2 base variant will now be available for Rs 10,499. Meanwhile, the Poco M2 Pro will see a price cut of Rs 1000, so the base variant will start at Rs 12,999.
The Poco X2 will also see a price cut of Rs 1000, i.e., and it will start at Rs 16,499. However, Poco X3 would be a much better choice, and its first-ever sale will begin at a starting price of Rs 16,999. Apart from this, the recently launched Poco C3 will also put up its file sale on Flipkart Big Billion Days. It will be available at a starting price of Rs 7,499.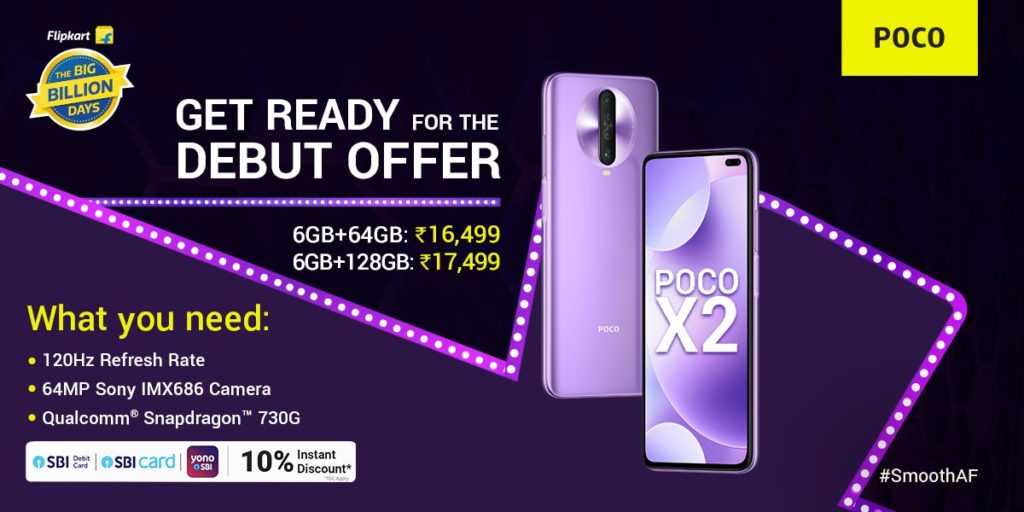 The best part is that Flipkart is also offering a 10% instant discount on the entire Poco squad for users owning SBI credit cards or debit cards.
11. Realme C15, Realme C12, Realme C11, Realme 6, and Realme 7i
Similar to Poco, several budget phones from Realme will also be on sale this Big Billion Days Sale.
Realme C15, C12, and Realme 6 will see a price cut of Rs 1000, whereas the Realme C11 will see a price cut of Rs 500.
The new starting price of Realme budget smartphones will be as follows —
The Chinese smartphone manufacturer will also be keeping its first sale of Realme 7i with a starting price of Rs 11,999.
Meanwhile, the Realme Narzo series will be back with its discounted prices. During the Flipkart Big Billion Sale, Narzo 20 Pro, Narzo 20, and Narzo 20A will be available at a starting price of Rs Rs 14,999, Rs 10,499, and Rs Rs 8,499, respectively. SBI cardholders will get a further 10% instant cashback.
12. Motorola One Fusion+, Motorola G9 and Motorola E7+ (yeh link red kyu show ho rha hai – IDK)
Last but not least, users will also see price drops on several budget smartphones from Motorola.
Moto G9 and Moto Fusion+, both devices will see a Rs 1,500 price drop, and the devices will be available at Rs 9,999 and Rs 15,999 respectively. Meanwhile, the Moto E7 Plus will be sold at a price tag of Rs 8,999, a Rs 500 drop from its standard listing.
So these were some of the best Flipkart smartphone deals you will see at the upcoming Big Billion Days Sale in 2020. Apart from the standard offers, using an Axis bank card can get you a 5% cash back on nearly all the mobile offers. The e-commerce giant is also offering no-cost EMI offers and phone exchange offers on several smartphone deals.
The post 12 Biggest Smartphone Deals At Flipkart Big Billion Days Sale 2020 appeared first on Fossbytes.