The widgets panel on iPhone is one of my most favorite parts of iOS. We all know that iOS is pretty restrictive when it comes to offering customization choices to users. The only thing in iOS which you can really set it to your liking is the widgets panel. I mean you can have as many widgets as you want, you can customize the order of these widgets, and much more. I love using the widgets panel to quickly access information and execute simple tasks. That said if you really want to make the most of the widget panel you need to know which widgets work the best. To help you with that cause, we are bringing a list of the 15 best iPhone Widgets that you should use in 2020.
Useful iPhone Widgets You Should Use in 2020
If you have not used iPhone widgets before, click on the link to learn how you can manage  and add widgets to your iPhone.
1. Launcher
Launcher 3 is the most customizable and powerful widget that you can get for your iPhone. I mean, the app has basically been developed for the widget panel. It offers you a ton of features allowing you to not only put your favorite contacts and music but also apps, web pages, and more. You can even assign specific actions such as calling a certain contact, messaging your friend, getting directions, and more. If you really want to take advantage of your widget panel, definitely check out Launcher.
Install: (Free, in-app purchases)
2. Calendar and Reminders
One of my favorite iOS widgets is the calendar widget as it allows me to quickly take a look at my upcoming events. Apart from the built-in calendar app for iOS, most of the other good third-party calendar apps including Fantastical (Free, in-app purchases), BusyCal ($4.99) and more offer widgets. The built-in calendar widget is called "Up Next" and shows you all the upcoming events for the day.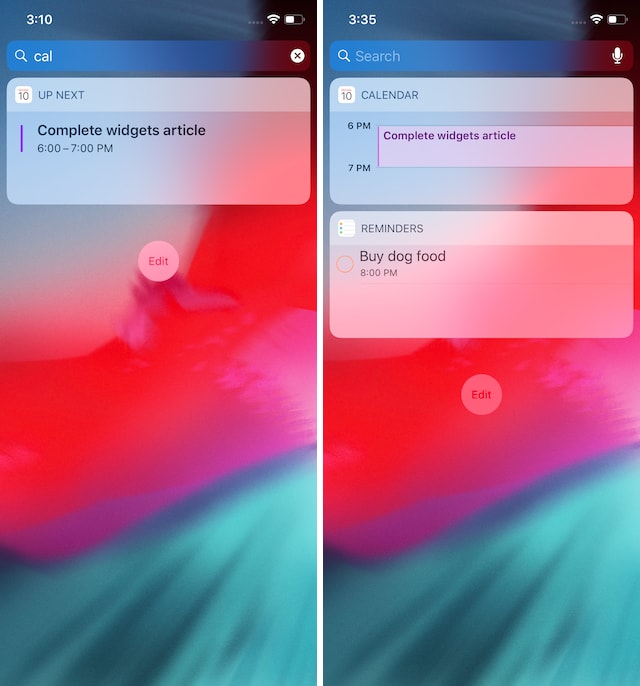 Some apps like Fantastical 2 even showcase your entire monthly calendar in the widget itself. Similarly, if you are using a task manager app such as the Apple Reminders app or any other third-party app such as Todoist, or Things 3, you can use their widgets to see your upcoming tasks in the widgets panel.
Comes Pre-installed
3. Shortcuts
With the launch of iOS 12, Apple introduced a new Shortcuts app which allows users to automate certain tasks with the help of simple shortcuts. If you don't know anything about Shortcuts, basically, you can build custom shortcuts that can execute a series of actions. For example, you can post tweets, create alarms, download Instagram videos, and much more with just a tap of a button. The Shortcuts widget area is one of the best places to interact with your shortcuts to execute your tasks. While you can always create your own Shortcuts to accomplish custom tasks, there are a bunch of Shortcuts that already exist on websites such as Sharecuts (visit) that you can check out to get started.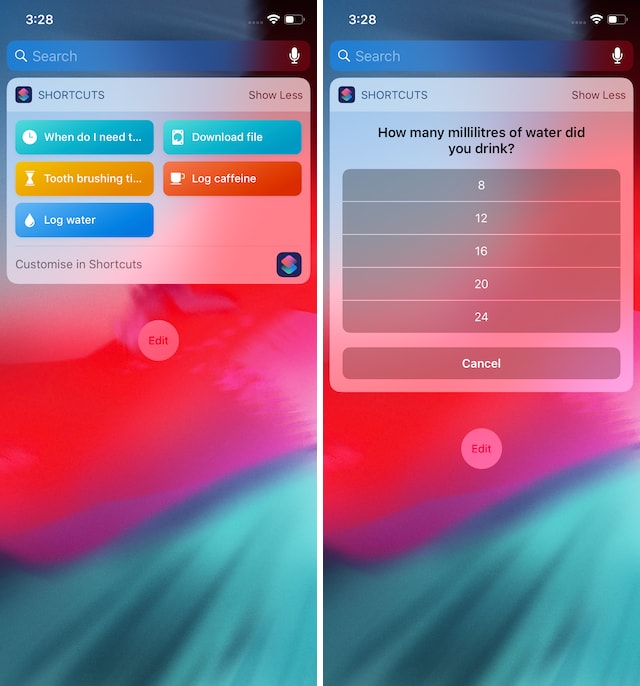 Install: (Free)
4. Weather
Another very useful widget which I always have on my widget panel is the weather widget which shows me the current weather. Whether you are using the built-in weather widget or those that come with third-party weather apps such as Carrot Weather ($4.99), or any other weather app for that matter, the widget panel is great for getting a quick view of the weather conditions in your area. If you are using the built-in weather widget, you can tap on it to open the app if you want more information.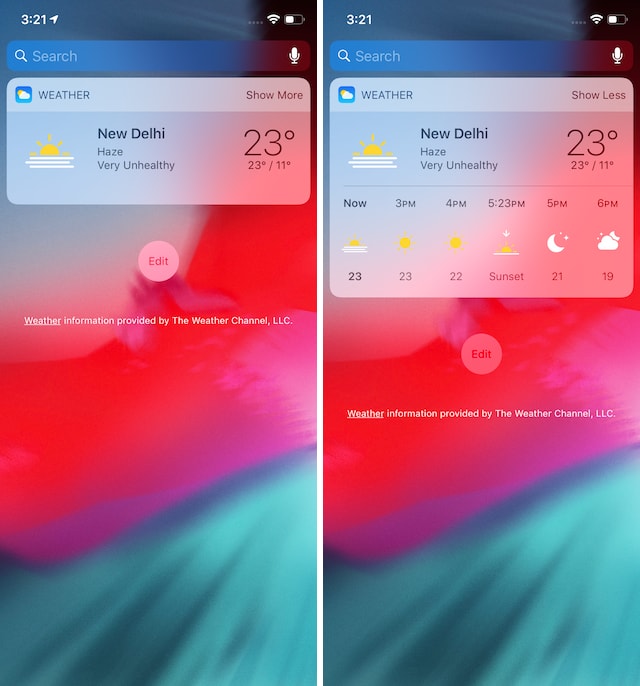 Comes Pre-installed
5. Google Maps
Apple is great at making many things. Sadly, Maps has not been one of them. Google Maps is still leaps and bounds better than Apple Maps, especially if you are living outside the US. Plus, Google Maps gives you access a number of useful widgets as well. You can use a widget that shows you the traffic in your area, or one that shows you the time it will take to reach your destination or any of the other three widgets. I generally tend to use the one that shows me the travel time as it helps me leave on time. You can see all the five widgets that Google Maps offers in the picture below.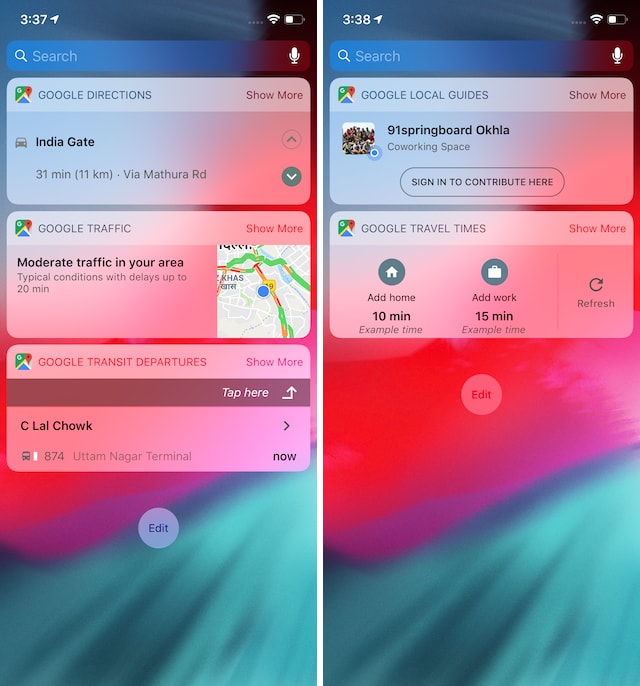 6. WiFi Widget
WiFi Widget is great for users who like to see the status of their WiFi connection. Whether you are using a public WiFi or WiFi at your home and office, the WiFi Widget allows you to get quick access to your current network information while also allowing you to execute actions such as connection speed tests, sharing the WiFi password, and more. Whether you want to find out the internet speed that you are getting or just see which network you are connected to, this is a great widget to have.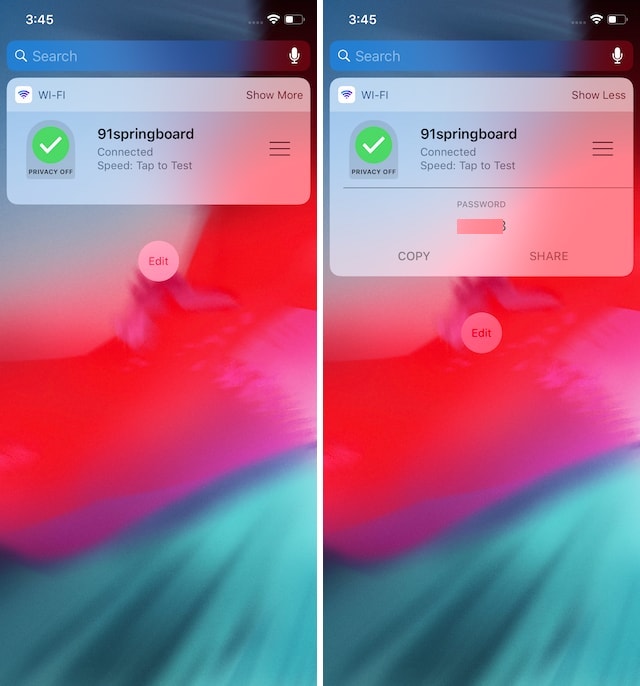 Install: (Free, in-app purchases)
7. Shazam
If you love music, then you gotta have this widget. Shazam widget does a very simple job. It allows you to identify music playing in the background with just one tap. Since Apple acquired Shazam, there's been a lot of talk that Apple will incorporate Shazam in its Apple Music app. However, till that happens, you can use Shazam and its widget to identify songs so that you never miss out on a song that you love.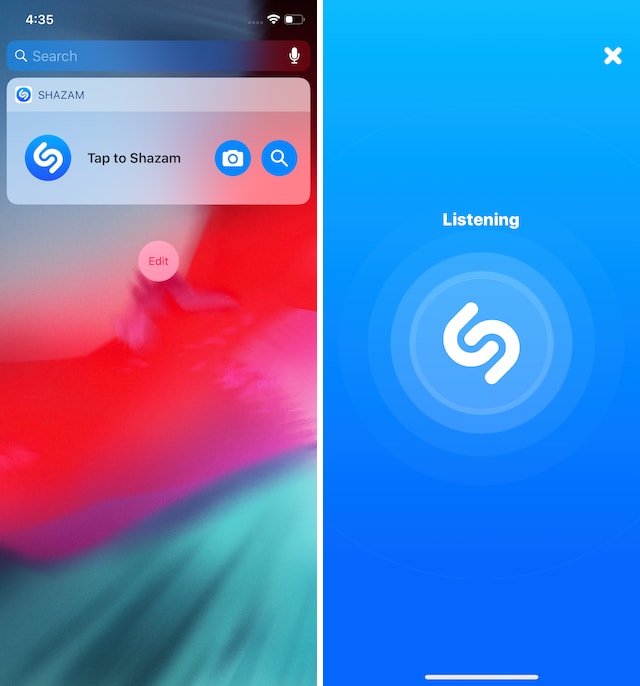 Install: (Free, in-app purchases)
8. Copied
Copied is a great app which stores a history of your clipboard so that you never miss out on the things that you copied. The app allows you to copy multiple items in succession without the latest copied item overwriting the last one. Its widget gives you quick access to the last couple of copied items so that you can easily paste them back wherever you want. It's also a great place to store quick copied notes without having to paste them anywhere. I use copied almost on a daily basis on my iPhone and its widget is something that I cannot live without.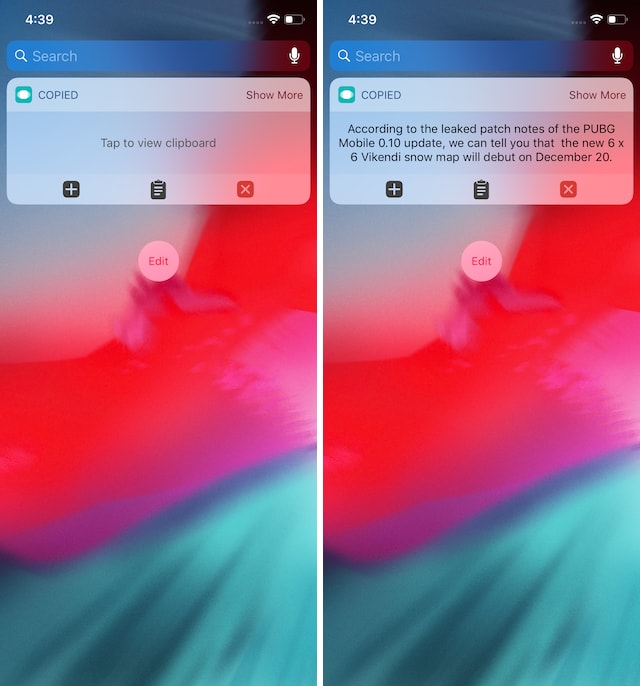 Install: (Free, in-app purchases)
9. Drafts 5
Drafts 5 is my favorite note-taking app on iOS App Store and I love the quick widgets that come with it. My favorite thing about Drafts is that it allows me to quickly jot down notes. Whether I want to capture quick written notes, paste something that I copied or record a voice note, Drafts' widget gives me quick access to all these actions. If you are a paid subscriber, Drafts allows you to use even more types of widgets which are specifically designed to help you get to your notes quickly. Even if you don't use Drafts, check if your note-taking app comes with a widget or not. Most of the popular note-taking apps including Apple Notes, Evernote (free), and more come with quite useful widgets.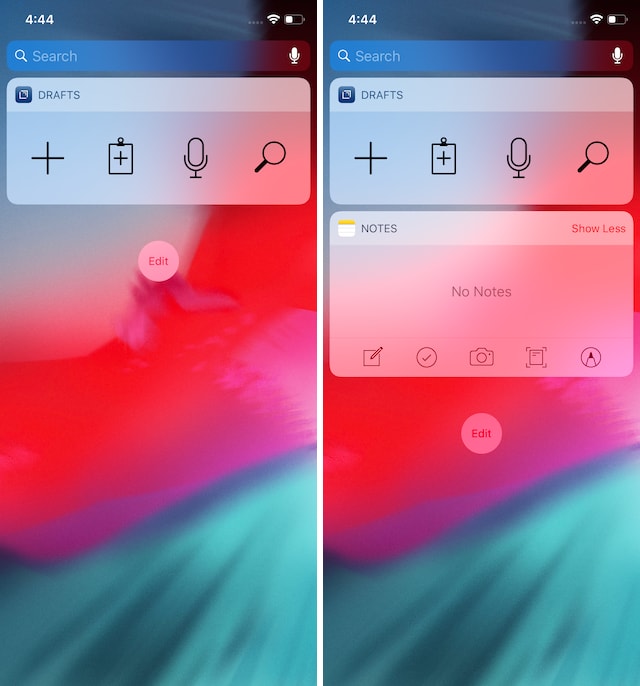 Install: (Free, in-app purchases)
10. ESPN
The last iOS widget on this list is for all you sports lovers out there. ESPN's widget allows users to keep track of their favorite team standings and follow their current matches in real-time. I love the ESPN app and follow all my favorite sports teams on it. The widget is great since it lets me take a quick look and find out how my favorite teams are doing. Even if you are not using ESPN, chances are that your favorite sports app comes with a widget which you can use to keep track of your teams.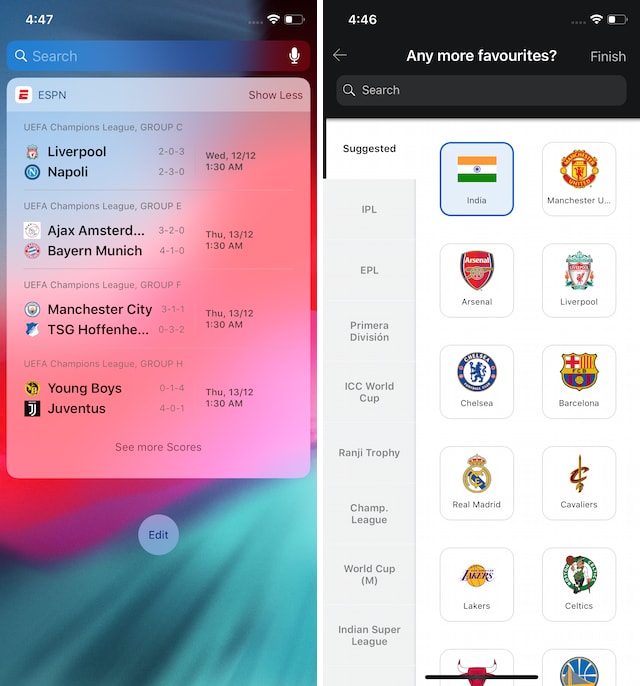 Install: (Free, in-app purchases)
11. Batteries
Simply put, "Batteries" is one of the best iPhone widgets, which makes it pretty straightforward to keep a tab on the battery life of the iPhone but also connected Bluetooth devices like AirPods. So, if you wish to track the battery life of your devices right from the widgets panel, you shouldn't miss out on this one. What's more, it comes pre-installed, therefore you don't need to install any third-party app or even spend bucks to get started.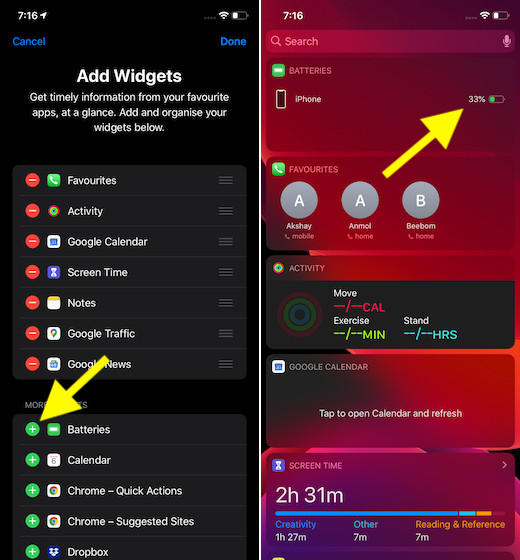 Comes Pre-installed
12. Chrome Suggested Sites
Every time you want to access your favorite sites, you don't need to take the usual routes. You guessed it! With the Chrome Suggested Sites iOS widget ready at your disposal, you can quickly access some of the sites which you visit frequently right from the Today View screen. The web browser keeps a tab on your browsing history and offers suggestions accordingly, thereby making it incredibly straightforward to access certain sites. Considering how handy this widget is, I wouldn't be surprised if you lock it in your special collection of cool iOS widgets for iPhone and iPad.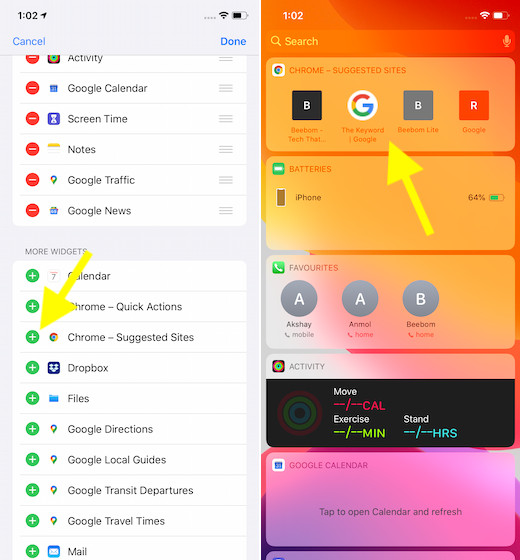 Install: (Free)
13. Favorite Contacts
Imagine a situation where you are on the go and need to quickly access the contacts of your loved ones so that you can reach out to them. Wouldn't you find it super convenient if you could instantly access all of your favorite contacts right from the Today View itself? Most probably, you would. If it sounds helpful to you, head into the widgets panel and add Favorites right away. The next time you need to communicate with your buddies, a quick tap can let you get started with the conversation.
Comes Pre-installed
14. Activity
Well, this one is primed for fitness freaks or those who put health and fitness right at the top of their priority list. And if you are one of them, save this iOS widget to help you keep a track of your activity. As it's built-in, you can expect it to work reliably on your iOS device, showing your progress. Thus, you won't need to dive into the Health app to figure out how well you are performing in the gym and how much effort you still need to put in to accomplish your goal.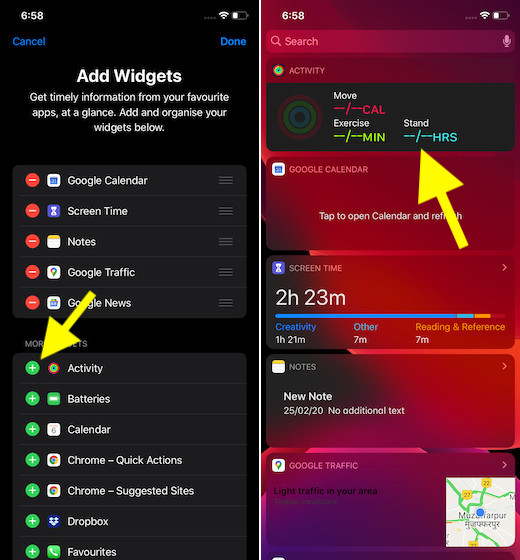 Comes Pre-installed
15. Google News
Do you like to keep an eye on the latest happenings to keep yourself updated with everything that matters to you? If the answer is yes, why not add the news aggregator to the Today View so that you can track all the breaking news with the utmost ease. Boasting a diverse set of credible publishers, it's the sort of platform where you can read stories from several topics including technology, politics, sports, entertainment, business, and more. Better still, it's available for free and supports several languages.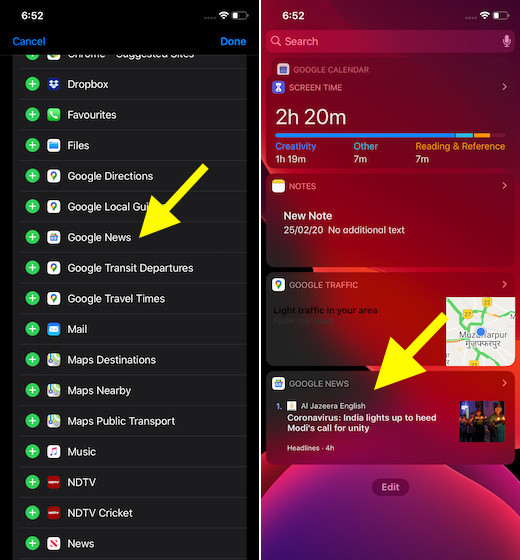 Install: (Free) 
Best iOS Widgets to Make The Most of Widgets Panel
That ends our list of the 10 best iOS widgets that you can use to get the most out of your widgets panel. I would recommend that you choose the five best widgets and stick to them as having too many widgets defeats the purpose of simplicity and quick action time. Do check out the list and let us know your favorite iOS widgets by writing in the comments section below.