Clubhouse has almost taken the tech world by storm and has amassed more than 6 million users in the last couple of months. It has introduced a new dimension of social media where you can interact with users through your voice. While there's nothing revolutionary about it, the approach makes it exciting. All audio conversations are public and anyone can drop in and hear the conversation. Due to this unique approach to social media, users are hopping on Clubhouse and looking for more apps like Clubhouse since the app is invite-only and currently available on iOS devices. So if you want to try some great alternatives to Clubhouse, read on.
Best Apps Like Clubhouse for Android and iOS (2021)
Here, we have mentioned the top 5 apps like Clubhouse for Android and iOS platforms. You can take a quick glance at the list below and click on the link to move to the relevant app.
1. Twitter Spaces
After the launch of Clubhouse, everyone seems to agree that Twitter should have been the trendsetter of this audio chat social media since Clubhouse is built on Twitter's principle: almost everything is public. However, it took Clubhouse's foray into the mainstream circle for Twitter to wake up from its slumber. Now, Twitter has announced Spaces which is like Clubhouse but integrated inside Twitter along with Fleets.
You can start Twitter Spaces by long-pressing the Compose button on Twitter and by choosing Spaces. Alternatively, you can tap on your profile image under Fleets and scroll right to find Spaces. If the option is not there then Spaces is yet to arrive on your Twitter account. Keep in mind, Spaces, just like Clubhouse is public and anyone can join in and listen to your Spaces. However, you can choose who can speak in your Spaces: Everyone, People you follow, or Only people you invite to speak.
Besides that, currently, only 10 users can have the speaking privilege at a time. After you end your Spaces, nothing will be publicly available just like Clubhouse. However, Twitter will retain a copy of Spaces for 30 days in case of any violation. One more point, protected accounts can't create Spaces, but can join and listen to other conversations.
Install Twitter to Use Spaces (Android / iOS — Free)
2. Leher
Leher is an Indian app aimed to bring a similar experience like Clubhouse and it has been available on the Play Store since 2018. The app likes to call itself "Live Discussion Clubs on Audio and Video". While Clubhouse only has an audio-only chat option, Leher has support for both audio and video chat. And similar to Clubhouse, you have a discoverable feed where you can join clubs and hear the conversation.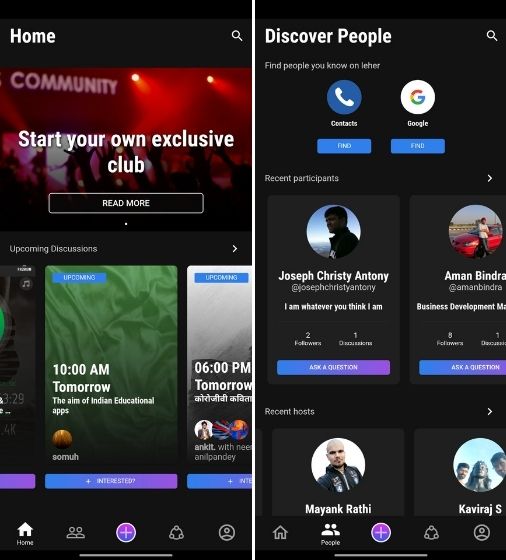 You can also search for your favorite topic, users, and trends. The best part about Leher is that it's available to everyone, unlike Clubhouse which is currently invite-only. In addition, Leher has apps for both Android and iOS so that is great. Apart from that, you can start your own club and create a space for like-minded people who share common interests and ideas. I think Leher is a promising Clubhouse alternative in India and you should definitely check it out.
Install Leher (Android / iOS — Free)
3. Discord Voice Channel
If you use Discord only for text chatting then you are missing out on a lot of fun. Discord allows you to create a voice channel that is similar to Rooms, but here is one big difference. You can choose the privacy setting of your voice channel. You can create a public or private voice channel. Keep in mind, public voice channels will be searchable and users can find it if the Discord server is tagged with voice-chat.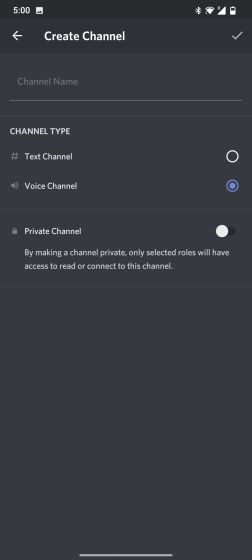 What I love about Discord Voice Channel is that there are controls right on the main page and you can mute your mic, remove members, check who is speaking in a seamless manner. On Clubhouse, many users complain that they can't find who is speaking and they have to scroll down to find the speaker which is cumbersome.
I would say, Discord Voice Channel is a great alternative to Clubhouse and you can definitely turn it to your advantage. I also love using Discord because it allows me to add extra features in your voice channels by using useful Discord bots and music bots.
Install Discord (Android / iOS — Free, offers in-app purchases)
4. Riff‪r‬
If you are unaware, Clubhouse is also being considered as a micro-podcasting platform rather than a new social media for audio-only chats. And in this micro-podcast segment, Riffr has been doing well for the past few months. Just like Clubhouse, here your audio conversations (called riff) are public and it's more conversational. Your followers can respond to your riffs and you can do the same as well.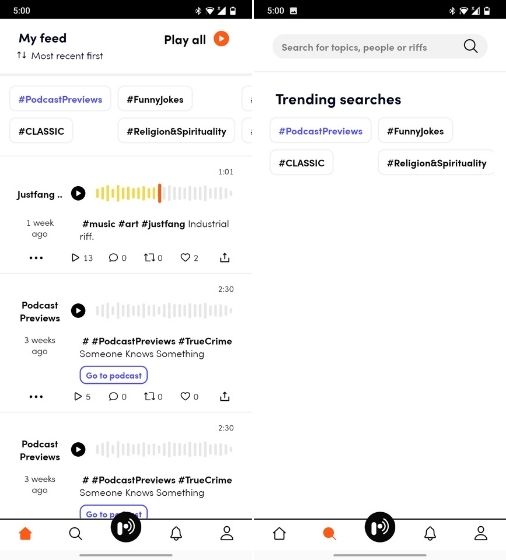 You can also search for topics, things you like and find micro-podcasts of your taste. What I like about Riffr is that it has a sharing feature that allows you to convert your audio riff to video so that you can post your micro-podcasts to other social media platforms easily. I think, in a strict sense, Riffr is not very similar to Clubhouse, but it does add a new dimension to the audio-only social media trend. You should definitely check it out.
Install Riffr (Android / iOS — Free)
5. Spoon
Spoon seems like a proper alternative to Clubhouse since it brings a public platform that is searchable and where anyone can drop in and listen to live conversations. According to Spoon, its audio platform has already been used by 30 million users which is quite a feat. You can start your own audio live streams or start a music room or kick off a traditional podcast session with your friends.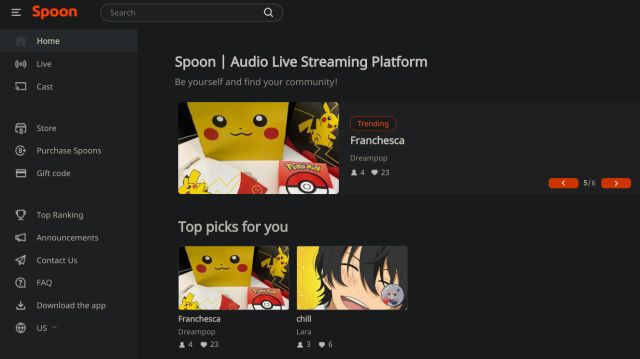 And unlike Clubhouse, Spoon is actually monetizable by creators. It seems Spoon is like the YouTube of audio-chat social media. Besides that, you can browse and explore trending conversations around music, daily life, games, comedy, and more. All in all, if you want to get into the audio-chat hype train just like Clubhouse then Spoon seems to be a good start.
Install Spoon (Android / iOS — Free, offers in-app purchases)
Have Audio Discussion on the Best Clubhouse Alternatives
So these are the best apps like Clubhouse that are competing in the audio-chat segment. No matter if you just want to have a casual conversation or to create micro-podcasts, you can find an app suitable for your need from the list. So just go ahead and pick an app to have the best audio discussion. In case, you are looking for the best ASMR apps then head over to our linked article. And if you have any questions then let us know in the comment section below.