The inclusion of MagSafe on the iPhone 12 and iPhone 12 Pro has opened a new avenue for magnetic accessories which are both easier to attach and remove. That means now you can have detachable MagSafe cases, chargers, wallets, along with a plethora of other MagSafe accessories. Of all these, my most anticipated accessory is the MagSafe wireless charging car mounts.
I hate the traditional car mounts where I have to use clips to hold my iPhone. Not only that makes the process unwieldy, but for people like me who use no cases, it's also a heaven for scratches. If you also hate traditional car mounts, here are the best MagSafe wireless charging car mounts for iPhone 12 and iPhone 12 Pro.
Best MagSafe Wireless Charging Car Mounts for iPhone 12 and iPhone 12 Pro
Since MagSafe is a new feature that is available only in the current generation of iPhone 12 phones, there are not a lot of options in the market right now. That said, accessory makers are picking up the pace and releasing new MagSafe accessories every passing day. We have listed the best available MagSafe car mounts right now and will keep on adding new ones as they are released.
1. ESR HaloLock Magnetic Wireless Car Charger Mount
ESR some of the best cases for iPhone 12 Pro and iPhone 12. And the company has just launched its HaloLock MagSafe wireless charger car mount. Unlike the not so strong magnets that you find on MagSafe cases, this car charger mount comes with powerful magnets that lock onto the built-in magnets of iPhone 12 and 12 pro to provide a secure hold even through the roughest terrain.
The magnets keep the phone perfectly aligned and allow you to place the phone in both landscape and portrait orientation. The best part is that it supports the 15W fast wireless charging that is the selling point of new MagSafe wireless charing over the normal wireless chargers. If you are looking for a fast wireless charger for the car, this is the one to get.
Buy from ESR: $39.99
2. Belkin Car Vent Mount Pro with MagSafe
If you just want a MagSafe car mount and don't need wireless charging to go along with it, you should check out the Car Vent Mount Pro. It's a small iPhone mount that you can attach to your car's vent. After you attach the car mount, place your iPhone 12 or 12 Pro, and it will magnetically attach to the mount.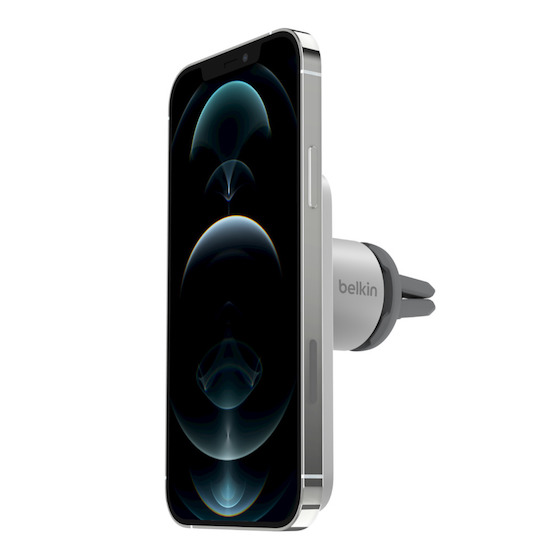 The mount not only features the rounded magnetic circle, but also the vertical alignment magnet at the bottom. That means you don't have to adjust the phone. It will automatically align itself. The mount has a rotation hinge, allowing you to use your smartphone in both portrait and landscape.
You are not getting wireless charging here, but it keeps the charging port open so you can always plug in your iPhone. I think the best thing about this mount is its build quality. It both looks and feels premium, and I highly recommend this.
Buy from Belkin: $39.99
Best MagSafe Car Chargers to Buy
As I said, there are not a ton of options on the market right now. But seeing how quality third-party companies are making and releasing MagSafe accessories, I am sure that we will see many more options before the year ends. So keep checking back on this article to get the latest products. And if you find any before us, drop their name in the comments below.