The inclusion of MagSafe on the iPhone 12 Pro Max is signaling the port-less iPhone future. I, for one, am not ready for that. But what I do like is the current benefits of MagSafe. Not only it allows for faster 15W wireless charging, but it also opens the doors for new and innovative MagSafe accessories for iPhone 12 Pro Max. My favorite ones are the MagSafe wireless charging car mounts for the iPhone 12 Pro Max that offer a better mounting and charing experience. In this article, we are going to list our favorites.
Best MagSafe Wireless Charging Car Mounts for iPhone 12 Pro Max
Owing to the newness of the MagSafe feature in the iPhone 12 Pro Max, there are not a ton of options available in the market right now. Thankfully, what few options we have, are from companies that make the best iPhone 12 Pro Max accessories.
Also, we will keep updating this article as more MagSafe wireless car charging mounts are released so keep coming back to check the new offerings if you are not happy with the current ones.
1. ESR HaloLock Magnetic Wireless Car Charger Mount
ESR earned its reputation by making quality cases for iPhones and Android devices (find our list of best iPhone 12 Pro Max cases). Slowly the company forayed into producing other accessories. And now, the company has become one of the firsts to launch a MagSafe wireless charging car mount for the iPhone 12 Pro Max.
The HaloLock mount from ESR features strong magnets that keep the phone perfectly aligned. They don't let the phone fall even in rough driving conditions. I love that the wireless charging car mount allows me to place the phone in both landscape and portrait orientation. And it supports the 15W fast wireless charging that is possible with MagSafe.
The bottom line is that it checks all the right boxes. If you are looking for a fast wireless charger for the car, this is the one to get.
Buy from ESR: $39.99
2. Belkin Car Vent Mount Pro with MagSafe
If you want a MagSafe car mount and don't need wireless charging to go along with it, you should check out the Car Vent Mount Pro. The mount is premium and has a build quality that will rival your iPhone 12 Pro Max's build. It also has strong magnets, so you don't have to fear your $1200 falling and breaking its screen (for extra precaution, don't forget to put a screen protector on your iPhone 12 Pro Max).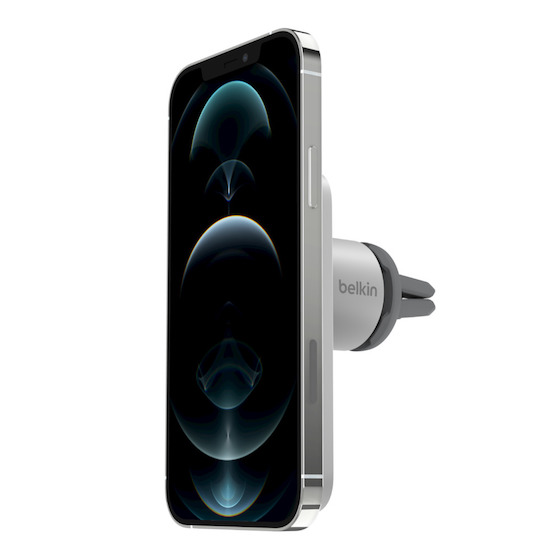 The mount features both the rounded magnetic circle and the vertical alignment magnet at the bottom. That means the iPhone 12 Pro Max will automatically align itself. The mount also has a rotation hinge, making it possible for you to attach the phone in both landscape and portrait modes.
And the Belkin MagSafe car mount is so tiny that when your iPhone 12 Pro Max is not attached to it, it doesn't stand out like an eyesore. If you can deal with the lack of wireless charging here, this is one of the best MagSafe car mounts that you can buy for your iPhone 12 Pro Max.
Buy from Belkin: $39.99
Best MagSafe Car Chargers to Buy
I wish there were more options to choose from, but currently, only the best accessory makers are producing MagSafe accessories. I am hopeful as the weeks pass, more companies will join them, and we will see some cheaper alternatives on the market. For now, this is it.
Don't forget to keep checking back on the article as we will add more MagSafe wireless charging car mounts as other companies release their products. And if you find one before us, drop its name down in the comments below.