Chromebook has been getting a lot of attention recently for new feature additions such as the dark mode, read later, clipboard history, phone hub, and more. Of all the features, I know many are eagerly waiting for a system-wide dark mode to arrive on Chrome OS. Well, the wait is over. You can now enable dark mode on a Chromebook by enabling a simple Chrome flag. So without any delay, let's go ahead and learn how to experience the new dark theme on Chromebooks.
Enable Dark Mode on a Chromebook (December 2020)
To enable system-wide dark mode on a Chromebook, you need to enable a Chrome flag. But before that, you must be on the Beta channel of Chrome OS to be able to access the dark mode flag. Currently, dark mode has not arrived on the stable channel of Chrome OS so you will have to make a jump to a slightly buggy (but usable) build. For your information, my Chromebook is currently on Chrome OS 88.0.4324.22 Beta channel.
If you are on the stable channel then you can switch to the beta channel by going to Settings -> About Chrome OS -> Additional Details -> Change Channel -> Beta. Now, re-open the "About Chrome OS" page again and check for updates. Don't worry, this process won't delete any of your files or programs. Having said all of that, let's now go through the steps.
1. Open chrome://flags on the browser and search for "dark". Alternatively, you can open chrome://flags/#dark-light-mode to access the flag directly. Here, click on the drop-down menu next to "Dark/light mode of system UI" and select "Enabled".
2. Next, click on the "Restart" button located at the bottom-right corner.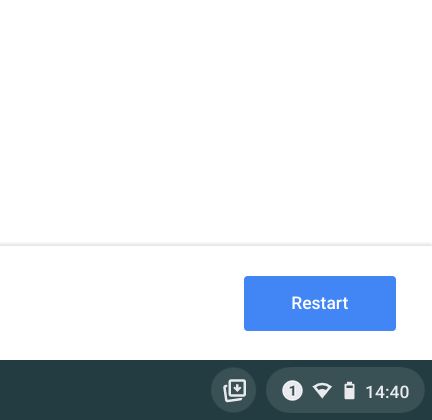 3. Now, open the Quick Settings panel and you will find a new "Dark theme" tile. Click on it to enable system-wide dark mode on a Chromebook. That's it.
4. To move to the light mode, simply turn off the "Dark theme" tile under the Quick Settings panel, and you are done.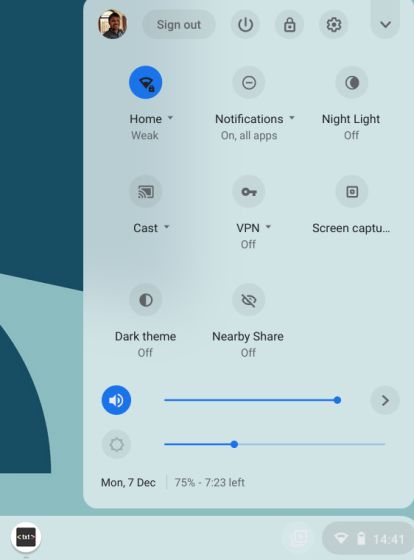 My Experience While Using Dark Mode on a Chromebook
First of all, Chrome OS already had a sort of dark mode touch to its UI. The app drawer and quick settings menu were dark in design so turning on dark mode does not do anything to these elements. However, turning on light mode brings a new vibrant UI which I like pretty much. It's very similar to Windows 10's light theme. That said, the current dark mode implementation on Chrome OS is half-baked and messes up a lot of things.
For instance, texts retain the dark color even in dark mode making it harder to read while looking for apps in the drawer. Taskbar does not change its theme automatically. You need to open the app drawer once to apply the new changes. In light mode, the quick settings menu gets invisible due to a similar color set for the taskbar and quick settings menu. The dark mode is still not applied to the Settings page or the Files app, at least on the Beta build.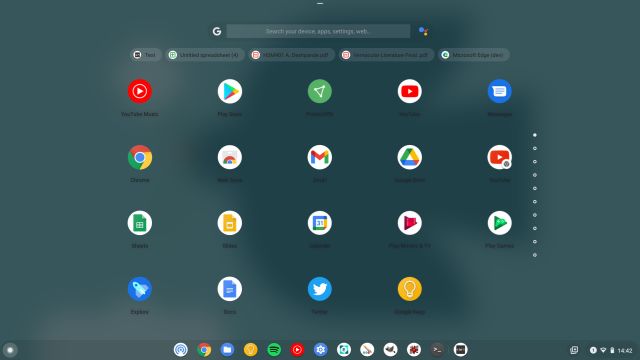 Overall, it's a half-hearted attempt at bringing dark mode on Chromebooks. I am pretty disappointed by this release as the feature made its appearance in the Canary channel two months back in October. Still, the implementation has not gone through a significant improvement. Sometimes, a restart fixes things, but it's all-around a bad experience right now.
Experience System-wide Dark and Light Mode on a Chromebook
So that is how you can enable both dark and light mode on a Chromebook. As much as we love dark mode, I found the new light mode quite beautiful on my Chromebook. That said, the dark mode implementation is flaky at best. Anyway, those were my thoughts. But what do you think? Do tell us your experience in the comment section below. And to learn more such Chrome OS tips and tricks go through our linked article.