Putting all rumours to rest, Apple has finally unveiled new iPhones of 2020. This is a 'first' for the Cupertino-based tech giant as it has launched four iPhones together — iPhone 12 Mini, iPhone 12, iPhone 12 Pro and iPhone 12 Pro Max.
Immediately after the launch, Apple has now revised the prices of its older models that it has kept in the iPhone lineup, which are iPhone 11 and iPhone XR.
iPhone 11, which was recently crowned as the highest selling smartphone in the world by Analytics company Omdia, has got a price cut across storage variants.
Post the revision, the 64GB, 128GB and 256GB storage variants of the iPhone 11 are now listed less than before on the official Apple store that was only recently launched in India. The base variant is now officially under the Rs 55,000 mark as it is listed at Rs 54,900. Before the launch, the price of this variant of the iPhone 11 was listed on the Apple website as Rs 68,300. As for the other storage variants of 128GB and 256GB, Apple has officially reduced the price to Rs 59,900 and Rs 69,900 making them cheaper by Rs 13,700 and Rs 14,200.
(before launch)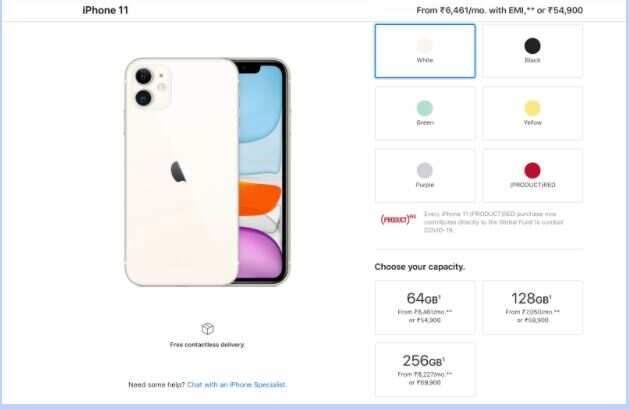 (after launch)
As for the iPhone XR, the starting price of the device has been reduced to Rs 47,900. The base variant offering 64GB that was earlier selling at Rs 52,500 can be purchased at Rs 47,900 and the second storage model that offers 128GB storage model that was earlier selling at Rs 57,800 can now be purchased at Rs 52,900, making the storage models cheaper by Rs 4,600 and Rs 4,900.
These new prices of the iPhone 11 and iPhone XR storage models are not yet updated on e-commerce websites such as Flipkart and Amazon, however, they are expected to be revised soon.