It does look like smartphone vendors in India have left the Covid-19 blues behind them. As per a report by Canalys, smartphone shipments recorded a high of 50 million shipments in Q3 2020. Canalys says that this is an all-time record for smartphone shipments in a single quarter in India.
"Smartphone vendors are definitely bullish," said Canalys analyst, Adwait Mardikar. "The government, slowly but surely reducing restrictions on movement after a three month lockdown, has created the perfect atmosphere for sustained growth."
Xiaomi is still the market leader and shipped close to 13.1 million units in the third quarter of 2020. Samsung, which had slipped to third, is now back in second position with 10.2 million units shopped. Vivo, Realme and Oppo rounded up the top 5 brands with 8.8 million, 8.7 million and 6.1 million shipments.
As far as market share is concerned, Xiaomi leads it with 26.1% whereas Samsung claimed about 20.1% market share in the country. Vivo, Realme and Oppo garnered 17.6%, 17.1% and 12.4% respectively.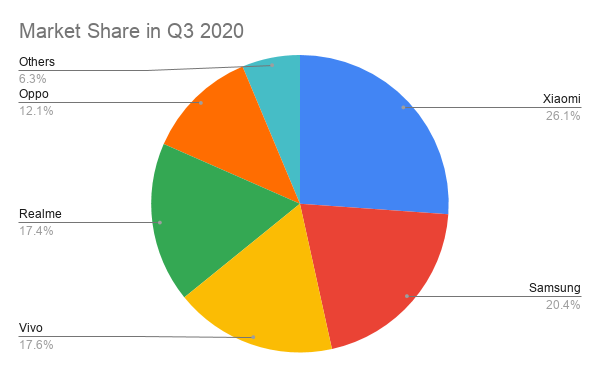 The anti-China sentiment hasn't had any major impact, as per Canalys. "Ongoing tension between India and China has been a hot topic in the past few months, but we have yet to see a significant impact on purchase decisions of mass market customers," said Canalys research analyst, Varun Kannan. The Chinese brands continue to dominate Indian market with 76% of total shipments in this quarter. The number, in fact, has grown by 2% compared to last year.
All the brands have shown shipment growth, as per Canalys. "The true winners are the online channels, who have been buoyed with a huge influx of devices ahead of the festive season. Ongoing sales at Amazon and Flipkart are a clear indication that despite the economic downturn, India's penchant for a good smartphone, and a good bargain, remains intact," added Mardikar.